Row by Row 2019 - Our Block!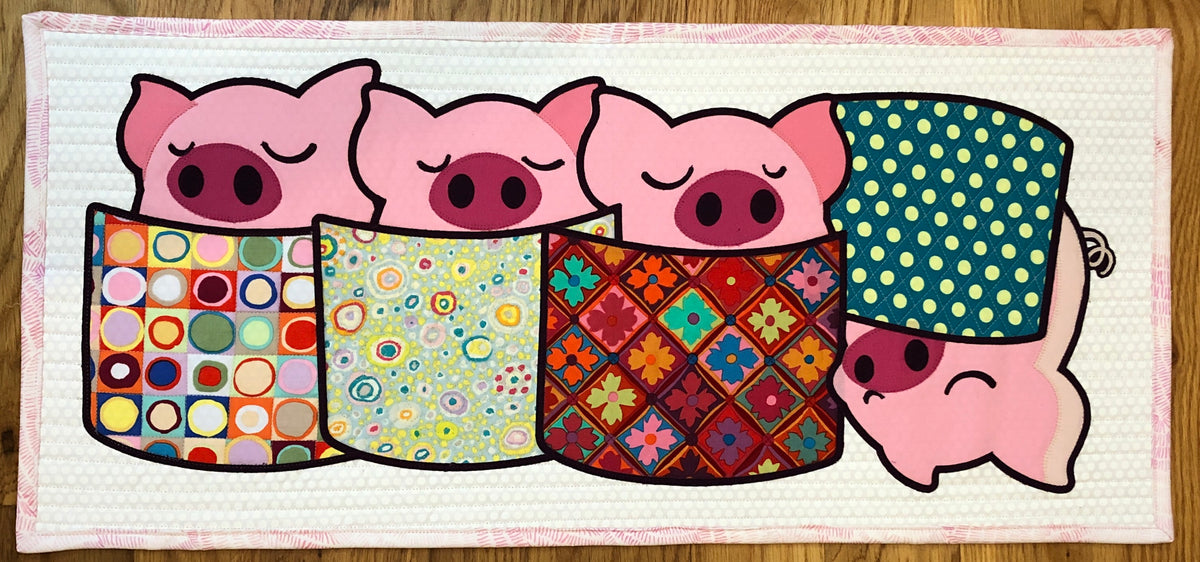 Cary Quilting Company is proud to be a participating shop for the 6th year in a row with the
Row by Row Experience
™. This year's theme is "Taste the Experience".  Our owner Julianne, who has designed most of our row patterns, loves to create whimsical and cute designs featuring animals, and this year is no exception!
Combining North Carolina's love of pigs with our love of quilting led to this year's adorable row....
While we usually don't allow our friends and family to call quilts "blankets", we will make an exception for this cute set of snoozers! Take a nap with piglets April, Bea, Charlotte, and Daisy as they dream in their snuggly quilts, made of fabric by Kaffe Fassett.  
This is an appliqué block, and it's created with narrow outlines to give it a cartoon-like appearance. The outlines are also appliquéd fabric, added as a last layer. You've probably never appliquéd like this before!
We will be giving away free patterns and selling laser-cut kits for this adorable row, starting on June 21st, 2019.
Purchase Row by Row items here.
See our previous year's projects:
2014 - Cardinal in the Dogwood Tree (designed by Hissyfitz Designs)