Expansion Update!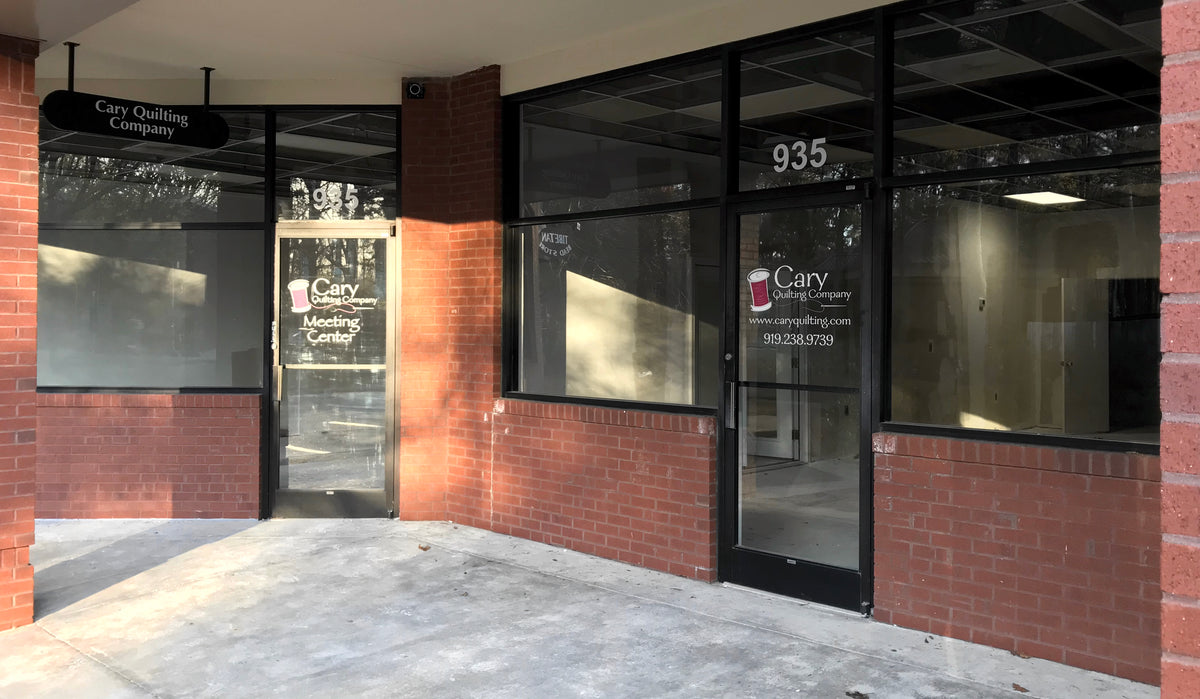 There has been a lot of work going on next door!  We will be opening our new shop spaces in April!  We look forward to a brand new 900 square foot classroom (with privacy doors), a new larger longarm quilting area for our new staff quilters, and more space for fabric in the main shop!
Here's what's happened so far:
All new heating and air conditioning in both spaces, individually controlled
The old dentist office plumbing has been removed from floors, walls, above the ceiling, and through the building roof
The roof has gotten a few patches where dentist plumbing pipes came out
The doors have been re-keyed and beautiful shop signs decorate them
Our hanging sign in the breezeway now has our name on it
The mirrored tinting on the windows in both spaces has been removed
All new LED lights have been installed and adjusted for consistently beautiful lighting all over
Extra electrical connections have been removed and dedicated circuits for our longarm quilting machines and irons (in the Meeting Center) have been installed
The concrete floor in the Meeting Center has been cut to allow for nine in-ground outlets - no more tripping over sewing machine cords!
The drywallers have been smoothing and sanding our walls, and preparing to paint and cut out the opening between the main shop and the new spaces
We have a set of French Doors installed between the two spaces, for classroom separation
Your new Meeting Center!
The new longarm quilting area and extra shop space
What's left to do:
Electrical outlets installed in the floor
Concrete re-pouring
Ceiling finish (paint ceiling grids, install ceiling tiles)
Cutting the opening between the spaces & finishing it out
Floor smoothing and flooring installation to match the main shop space
Paint to match the main shop space
New toilet in the Meeting Center restroom
New laundry tub in the back of the Meeting Center
Window treatments for the Meeting Center
Wall mounted TV for casting videos, tutorials, etc. in the Meeting Center
All new work tables on locking rollers and padded chairs
Fire extinguishers and final permits
Pheww!  Are you tired yet?  We are!  But we are also really excited about what all of this will bring to Cary Quilting Company.  We look forward to having with us on the journey!
To see the next post in this series, click here.
|
Posted on March 23 2018