Blossom and Grow Blog Hop - with a *free pattern* download!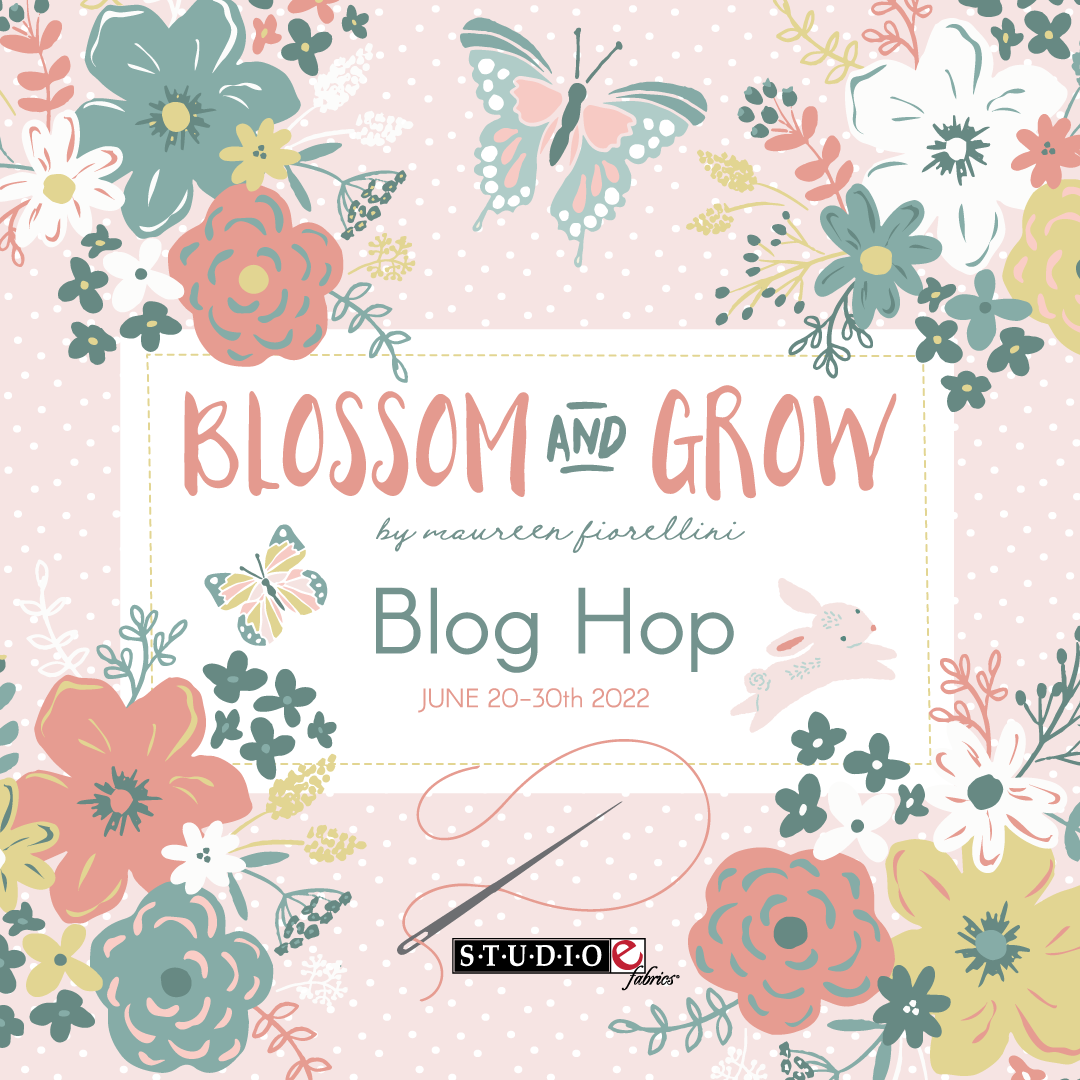 We've been invited by Maureen Fiorellini to join her 
Blossom and Grow Blog Hop
.
 In celebration of her new fabric collection, Maureen has organized makers and projects each day starting on June 20, 2022 and going for 19 days! There are tutorials, inspiration, and some fun giveaways. We have provided two Cary Quilting Gift Card giveaways during the hop! Read on to find out more and see the beautiful quilt and original pattern we made with 
Blossom & Grow
 by 
Maureen Fiorellini
 for 
Studio E Fabrics
.
We adore the Blossom and Grow fabric line by Maureen, and ordered the whole collection for our shop. To come up with our original shop project, Julianne, our shop owner, studied the designs in Maureen's fabric to create a row-by-row inspired baby quilt. In this free pattern, you'll find appliqued butterflies, flowers, bunnies, and rainbows, pieced pinwheels, and clever use of some of the prints that Maureen created for the collection.
After the quilt was competed, she felt like we really needed some adorable little humans to model with it - but she is not in the right age range for having many adorable little humans in my life! Thankfully we have a great "Buy Nothing" group for the downtown Cary, NC community, and on the "Wish Wednesday" posting, I wished for some tiny models! I'm so grateful that Eva Grace O. and Luna T. (and their mothers) agreed to be models with my quilt!
Eva Grace checks out the decorative stitching for the butterfly antennae.
Eva Grace sits on the improvisationally pieced quilt backing, enjoying her
book with her bunny
.
This is an original quilt pattern that is available as a FREE download from our website!
We are also offering kits for this quilt, while yardage lasts! Find kits here:
The possibilities are endless with Blossom and Grow! Follow fabric designer Maureen Fiorellini on Instagram (@maureenmaker). She has daily giveaways during the Blog Hop!
Don't forget to check out Maureen's Blog for coverage of the rest of the Blossom and Grow Blog Hop and visit ALL the stops along the way! 
We can't wait to see what everyone else on the Blog Tour has made! Make sure to visit Cindy Tesreau of @bunnydesignquilts on June 30, 2022 to see what she has for us, and for more inspiration and fun!.
Who am I?
Hi! I'm Julianne Walther, owner of Cary Quilting Company and the Retreat at Lake Gaston.

I started sewing as a young child. I made my first quilt after college, opened a custom quiltmaking business from home in 2006, opened Cary Quilting Company in 2013, and opened Retreat at Lake Gaston in 2020. When I'm not sewing, quilting, managing businesses, or writing patterns, you can find me walking the dogs, hanging out with my amazing family, crocheting, and enjoying the Retreat as much as possible!
My quilt shop, Cary Quilting Company, was chosen as a
Quilt Sampler Top Shop
for their Spring / Summer 2022 edition! We also just earned
Best Fabric Store in the Triangle
for the 5th year in a row. We ship worldwide and record
daily videos
from the shop. We have an award-winning staff of 25 quilters in our 6,000 square foot slice of heaven- come see us!
For easy reference and just to make sure you don't miss a post, here is Maureen's Blog Hop page with all the dates and projects - make sure to bookmark it!
Find Blossom and Grow yardage at Cary Quilting Company here.
Thanks for visiting us!
10 comments
Your quilt is gorgeous. Thanks for the pattern.

Your quilt is gorgeous. Thanks for the pattern.

Your quilt is gorgeous. Thanks for the pattern.

Darling quilts and adorable kiddos. 💚💙💜 Hopefully my quilting skills will greatly improve someday so that I could make one of these quilts.

Love watching your videos everyday!!! I bought 2 of the Advent Caldenar panels and almost making one for our daughter, as she'll be visiting in July and then I'm making one for us also. We hang the panels in our entry of our house, and I hope to have 2 for each month eventually.

Your quilt is lovely, and I love the improv back 🥰 Thanks for carrying the entire line🤗 and for participating in my first blog hop not only as a maker, but also a sponsor!

Julianne, what a sweet bunny book and quilt. Thank you for carrying all of the Blossom and Grow collection in your shop. It's really precious. Book panels are so rare these days. Thank you both for this opportunity to shop and create.

Wow! This quilt is so lovely! The rainbows are sweet. Any baby (and momma) would be lucky to receive it!❤️

Such a sweet quilt! I love the appliqued bunnies.