2016 UFO Club Winners are announced!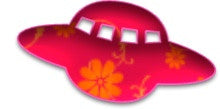 The 2016 UFO Club has come in for a landing, and the winners are out of this world!
We had 23 card-carrying members this year, and they busily worked on their unfinished objects!  82 quilts were completed, bound, and labeled during our club.
In third place, this quilter entered 7 projects and completed 6 of them.  Great work and congratulations to D.J. Gass with a $10 gift card!  This is D.J.'s second UFO Club win, as she won 3rd place last year as well!
In second place, this quilter entered 10 projects and completed all 10 of them!  7 of them were deemed "Little UFOs", so less than 3,600 square inches each. She earned 375 points for completing her quilts. Congratulations to Dena Brown with a $30 gift card!
In first place, this prolific quilter brought us 10 projects, and earned herself 400 points for completing all ten! Join us in congratulating Bonnie Williams who has won a $50 Cary Quilting gift card!
Honorable mentions go to our other "Perfect 10" quilters who entered and finished the maximum of 10 quilts: Marlene Jordan and Nancy Honeycutt.
Great work, everyone.  Keep your eye to the sky next January, when there will be another UFO Club beginning!  Now, isn't it time to start a new project?
|
Posted on April 01 2016